Bituminous Testing
December 2014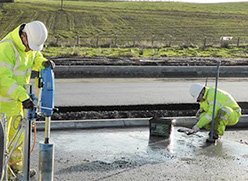 Construction Testing Services Ltd is pleased to announce that it now offers a variety of tests on Bituminous Mixtures used for roads and other paved areas. Testing of Bituminous Mixtures is carried out in the CTS laboratory and on site.
Laboratory testing includes tests for; bulk density, maximum density, air voids content, binder and grading.
Site testing includes in-situ density, texture depth, skid resistance and irregularity and surface accuracy assessment.